Natural stone is quarried from around the world and each piece shows unique character. The extraction site can affect color and composition, but How the stone is finished will also affect its final appearance. Some finishes can intensify natural color, others can soften the color.
Surface finishing also dictates functional characteristics such as durability and slip- resistance. This will determine the appropriate use and placement of a particular product.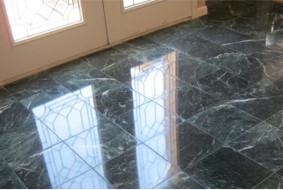 A smooth, reflective finish. The polished stone finish brings out the rich colors of the stone and enhances natural pattern and veining. It is the most popular finish for the interior use of the stone, as it shows off the depth and beauty of the natural stone.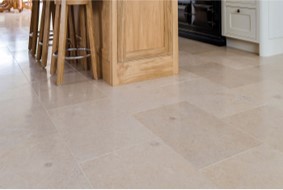 A smooth and non-reflective finish. The honed texture reduces the vibrant color found in a polished stone leaving you with a warm, but slightly dull finish. The variations in the stone are still visible in this aesthetically pleasing selection.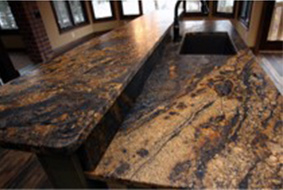 Leather finish has the same matt look of the honed finish with a slightly more textured surface. The process used to obtain a Leather finish closes the pores of the stone and thus reducing the possibility of staining and increasing the overall performance of the work surface.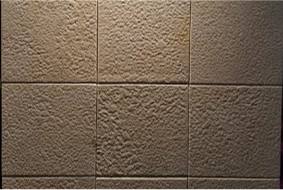 A rustic finish achieved by applying an acid bath to the stone face. When used on softer selections like marble, travertine, limestone, or sandstone, the chemical process etches away heavily at the porous stone, resulting in a beautiful, antiqued appearance.